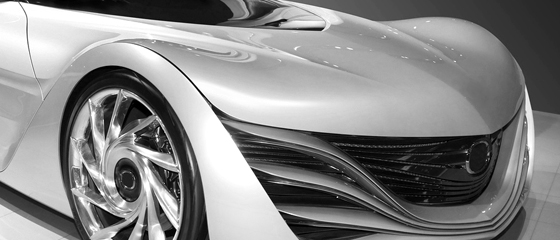 Alloy wheels have increasingly become "THE" fashion accessory for modern cars and when new they really enhance the look of a car adding a quality and style range coupled with light weights that steel cannot match.
Alloy wheel manufacturers have developed an increasingly complex range of designs and colour styles to meet customer demands however aluminium is intrinsically softer than steel wheels so therefore damages far easier.
Auto Wheels Ltd has become the UK market leaders in the repair, straightening and full re-processing of all types of alloy wheels to such a degree that often what customers thought were un-repairable wheels we can return back to their former glory.
Auto Wheels Ltd do not and are not interested in offering a "smart repair" service as we firmly believe without stripping the wheel fully you cannot properly check for stress cracks and repair any metal damage that has occured, and also ensure the paints match and equally importantly the paint will adhere to those previously used.
Auto Wheels Ltd completely strip and fully re-process all alloys checking for metal damage and repairing them where safe to do so, including straightening, welding and then completely re-painting the whole wheel often to a higher specification than the original paint finishes at a very competitive cost compared to our competitors and smart repairers.
Balancing, valve fitting and tyre fitting are very reasonably priced and included in our quotes and not "added on" as a surprise expensive extra! Check with our competitors what the "complete package price" is including valves etc?
Auto Wheels Ltd have a large area of  secure garaging on site for corporate and private customers requiring that extra personal touch & operate a collection and delivery service across the South of the UK.
We are now pleased to announce we have a loan car option available to our customers, please call for further information on this service, or ask about this service when booking in your vehicle with us.
By Auto Wheels • December 29, 2010 • 8:44 pm • Leave a comment